North Indian
Central Indian
East Indian
West Indian
South Indian
Hindu Pilgrimage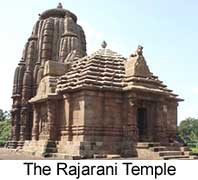 Ananta Vasudev Temple (Bhubaneshwar)
This is the only surviving Vaishnava shrine at Bhubaneshwar. Architecturally, it is similar to the Lingaraja Temple but on a reduced scale. Four components of the plan are compactly grouped together to create a dramatic accent to the tower that rises over the sanctuary. The building was profusely adorned, but many of the carvings are damaged. In general, the foliate ornament is more elaborate than that of the Lingaraja example, although the mouldings display smaller and simpler schemes. The sculptured figures resembles those of the contemporary Surya Temple at Konark. The corbelled interior is massive and unadorned.
Rajarani Temple (early 11th century)
This is one of the finest examples of the mature Orissan style. The walls of the sanctuary projecting outwards so as to create a plan that almost approaches a circle. Raised on a deeply modelled basement decorated with a delicately carved lotus ornament, each projection consists of two sculpted panels, one above the other; these are flanked by bands of delicate foliation. At the corners appear the Digpalas: for example, Vayu and Varuna (north-west corner) and Indra and Agni (south-east corner).
In between all amorous couples and alluring maidens, often clutching trees with vyalas in the recesses. Miniature representations of temple towers are positioned beneath the central niches, now devoid of their carved panels. At the edges and at intermediate points of the super-structure are vertical tiers of towered elements which repeat the overall towered form on smaller scale, complete with capping amalaka. An incised mesh of arch-like motifs covers many of these features.
In the middle of each side, two half towers are superimposed. The wholee composition is crowned by a large amalaka, with crouching figures beneath and a pot finial above. In contrast to the sanctuary, the mandapa lacks any overall ornamentation. The roof has a pyramid of recessed eave-like elements with a pot finial at the summit. Projections on each side are surmounted by fierce lion like beasts. Flanking the window (north and south sides) and the doorway in the front (east) are part-circular pilasters with elephants and lions beneath. Coiled around the pilaster at either side of the doorway are naga deities holding garlands. Scroll work with miniature guardians adorns the jambs; a Lakulisha figure appears on the
Continue......