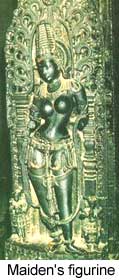 This Hindu temple is one of the early masterpieces of the Hoysala period. It was erected by the ruler Vishnuvardhana to commemorate his victory over the Chola armies. The monument stands in the middle of a courtyard surrounded by subsidiary shrines and columned mandapas. The entrance Gopura is on the east; its soaring tower was added during the later Vijayanagar era.
Entirely built of grey-green chlorite, the temple itself consists of a sanctuary with minor shrines on three sides and a columned mandapa partly opened as a porch. Multiple projections, some sat at an angle, create a complicated star shaped plan. The sanctuary and mandapa raised on a terrace that repeats the stepped outlines of the main building. The mandapa is reached by double flight of steps on three sides; these are flanked by free standing miniature shrines.
The doorways are highly elaborate compositions that incorporate guardian figures and prancing vyalas (below), large makaras with profusely foliated tails (side pilasters) and icons of Vishnu (lintels). The mandapa is enclosed by pierced stone screens that were added in the early 13th century; these are set between lathe-turned columns. The screens have complex geometric designs adorned with miniature figures. The basement beneath has friezes of elephants, meandering lotus stalks, figures, garlands, couples and musicians all carved with remarkable precision.
Beneath the overhanging eave, angled brackets carved as maidens are supported on the column capitals. These bracket figures are one of the finest example of Hoysala art. Maidens beneath intricately worked trees and foliage are posed in an unusual variety of dance movements; they are sensuously modeled and have sweet facial expressions. Particularly notable are the huntress and the maiden dressing herself.
The outer sanctuary walls are covered with architectural and sculptural elements. The basements of the projecting shrines have successive friezes of elephants, lions & horses. Wall panels are positioned beneath elaborate pediments or miniature roof forms. Most of the figural carvings depict aspects of Vishnu, particularly the incarnations and the God seated with Lakshmi. The tower intended for the sanctuary has vanished.
The highly polished columns within the mandapas are both multi-faceted and lathe-turned. Bracket figures, similar to those on the exterior, are positioned above. The ceilings of rotated squares with corbelled domes incorporate lotus ornaments and scroll bars; friezes of miniature figures include the Dikpalas. The sanctuary doorways are protected by large guardian figures. Vishnu and Lakshmi are seated in the middle. The temple is dedicated to the Shrivaishnava God Vijaya Narayana, whose image is enshrined within the sanctuary.