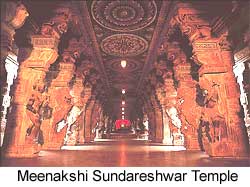 The Nayak rulers of Madurai and certain other towns introduced a new style of constructing open courtyard called parakramas. The Meenakshi temple at Madurai (in Tamil Nadu) was built in the 17th century A.D. by th Nayak rulers. It looks like a fortified citadel from outside. The Temple is contained with a complex of columned Mandapas, tanks, stores, shrines and, at the core, the two temples of Shiva as Sundareshvara and Devi as Meenakshi.
The sanctuary of Shiva has an assembly hall, a vestibule and a cella which is surmounted by a small shikara which penetrates through the flat roof covering of the whole portion of the temple . The sanctuary of Meenakshi is half the size of Shiva's sanctuary. The outer wall of the Meenakshi temple is 258 metres long and 220 metres wide. The temple has the "pool of lilies", measuring 49.5 m by 36 m, surrounded by steps and has a pillared portico on four of its sides.
The Gopuras at Madurai are among the most elaborately adored in southern India. The temple is adorned with eleven gopuras . Four among them are 45 metres in height. Each gopuram is a pyramidal structure with a straight or slightly curved slope. The gopurams with life size sculpture of figures from Hindu mythology are the striking features of this temple.
The towers are of brick and plaster with openings and porticos at each level to admit light to the hollow chambers. All of these elements are entrusted with plaster decoration and painted in vivid colours (recently restored). A doorway flanked by images of Ganesha and Subrahmanayam leads into a columned mandapa used for shops, stores and stables. Continuing westwards towards the Meenakshi shrine, the courtyard of the Pottamari Kulam is reached.
The 'bed chamber'on the north is where the image of Sundareshvara is brought each night. There is the Viravasantaraya mandapa, in which an image of Nandi is placed. To the south, is the Kalyana Mandapa, where images of Minakshi and Sundareshvara are brought at the festival that celebrate their marriage. The door jambs, which are more than 15m (49 ft) height , are finely carved with scroll work. The temple has many pillared halls, one of which is known as the "Hall of thousand pillars".