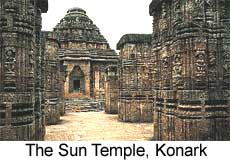 The climax of the Orissan series, this temple was constructed by the eastern Ganga king Narasimha (c.1238-64). This ruler seems to have taken a personal interest in the monument, which probably served as a memorial of his successful campaign against the Muslim invaders. Conceived as a colossal chariot of the Sun God, drawn on twelve pairs of wheels by seven horses, this is one of the most magnificent example of the Hindu sacred architecture.
The temple is ruined and only partly reconstructed; even so, the sculpted terrace and walls (in coarsely grained khondalite) are among the masterpieces of Hindu art. The temple stands in a rectangular compound with gateways (roofless) on the east and south. In front (east) of the temple is a detached dance hall; south of this is the kitchen. In the southwest corner of the complex arc two small shrines. The sanctuary and mandapa of the main temple are raised on a broad terrace; this is reached by three flights of steps on the north, south and east.
Twelve wheels, possibly symbolizing the twelve months, are carved against the sides of the terrace and also on both sides of the front (east) staircase. Positioned against the staircase are caparisoned galloping horses in full relief; one example is completely preserved on the south side. The sides of the terrace have continuous friezes at the bottom and top.
Between these are two tiers of panels separated by deeply cut basement mouldings and multifaceted pilasters fashioned like miniature shrines. The bottom frieze depicts elephants in their forest setting; the animals uproot trees and branches, give birth, fondle their mates and young ones and are captured by hunters. On the bottom and top friezes are marches and processions with elephants, horses and even camels; hunting of boar, deer and lions; and caravans, contests and duels.
Lotus ornament and scrollwork cover many of the mouldings that surround the sculpted panels. Here are voluptuous maidens in alluring postures: they stand beneath a tree; clutch at branches; play on musical instruments; caress a child or pet bird; or attend to their toilet. Amorous couples in a variety of sexual embraces, seated princes, teachers with pupils, standing ascetics, hunters, warriors and soldiers also appear.
Continue......