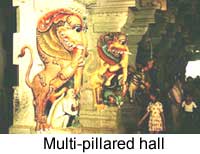 RAMESHWARAM

The sacred island town of Rameswaram at the extreme south-eastern limit of the Indian Peninsula. Rameswaram is the Varanasi of the south and a major pilgrimage centre for both Shaivaites and Vaishnavaites as it was here that Rama offered thanks to Shiva. At the town's core is the Ramanathaswamy Temple, one of the most important temples in southern India. A fine example of South Indian architecture, the temple is renowed for its many pillared (and often painted) corridors, about 1220 metres in length.
Rameswaram is on an island in the Gulf of Mannar, connected to the mainland at Mandapam by rail, and by one of India's engineering wonders, the Indira Gandhi Bridge. 14 years to build and was opened by Rajiv Gandhi late in 1988.
The town lies on the island's eastern side and used to be the port from which the ferry to Talaimannar (Sri Lanka) departed before normal passenger services were suspended more than a decade ago. Rameshwaram is connected by rail directly to Madras, Madurai, Trichy and Coimbatore where Madras is connected with all the main places in India.