North Indian
Central Indian
East Indian
West Indian
South Indian
Hindu Pilgrimage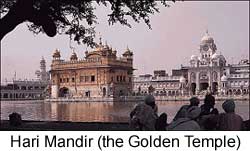 Hari Mandir (Golden Temple, Amritsar)
The present shrine replaces several other structures. It stands in the middle of a large rectangular tank (Amrita Sarovar or Pool of Nectar) reached by a marble causeway on the west of the tank are offices, stores, dining-hall, kitchen, guesthouse and watchtowers. The main gateway on the north (Darshani Darwaza) is marked by a clock tower. On the west is the Ahal Takht, a domed building which serves as the seat of the supreme Sikh council. A tree nearby shades the spot where Arjan meditated.
In the middle of the pond stands the triple-storey temple, its doors and balconies open to the four directions. On the ground floor is the shrine containing the Adi Granth; the book rests on a sumptuous throne that is covered by a jewelled canopy. Singers take turns declaiming verses from the book; each evening it is taken in holy procession to the Ahal Takht. On the upper levels are a treasury housing the canopy and other processional items, and a small mirrored hall used for meditation.
The marble building is much influenced by late-Mughal architecture. Colonnades, niches, balconies, parapets, turrets and the central petalled dome are all typical of contemporary mosques and palaces. The exterior is completely gilded with gold leaf-, inlaid marble, carved woodwork, ivory mosaic and embossed gold and silverwork adorn the interior. Murals illustrate scenes from the lives of the Sikh Gurus.
Guraka Bagh (Garden of the Guru, Amritsar)
This contains fruit trees, a tank and a number of pavilions, including the Tower of Baba Aral (son of the sixth Guru). The monument is capped by a small petalled dome; within, wall paintings depict episodes from the life of Nanak. The Kaulsar tank commemorates the devotion of a Muslim girl who converted to the Sikh religion.
Gurudwara Moti Bagh (Patiala, Punjab)
This is triple storey shrine. In an inner chamber on the intermediate level the Adi Granth is displayed. Mughal arcades frame the doorway. Above is a single chamber with a Bengali roof.