North Indian
Central Indian
East Indian
West Indian
South Indian
Hindu Pilgrimage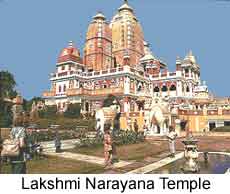 Lakshmi Narayana Temple (New Delhi)
Financed by the industrialist Raja Baldeo Birla, this temple is one of the most popular shrines within the city; it is the focus for celebrations commemorating the birth of Lord Krishna (Krishna Janmastami). The temple is designed in the Orissan style, with tall curved towers capped by large amalakas. Then exterior is faced with white marble and red sandstone typical of Delhi's Mughal architecture. The interior court is overlooked by two-storey verandahs on three sides; there are gardens and fountains in the rear.
Rakabganj Gurudwara
This Sikh shrine marks the spot where Tej Bahadur, the ninth Guru, was cremated in 1675, the Guru was executed at the order of the Mughal emperor Aurangzeb when he refused to embrace Islam. Despite its modern date, the design of this white marble shrine is typical of the late Mughal period, with multi-lobed arches, projecting balconies, corner, octagonal pavilions and a central raised chamber capped with a fluted dome. Smaller domed pavilions are positioned at the four corners of the platform on which the shrine is elevated.
Gurdwara Bahadur Bagh
A rectangle of high walls with subsiding rooms contains this shrine within a court. Double-storeyed gateways employ Mughal features, such as multi lobed arches, projecting balconies, chambers with curved roofs and octagonal pavilions. The shrine itself is a modest square building with arcades overhanging by an eave. Upon the roof is a rectangular pavilion capped with a Bengali roof with curved ridges and cornices. Paintings adorned the walls inside.
Bahai Temple (New Delhi)
The Bahai temple celebrates the lotus, symbol of purity throughout India, and the number nine, which represents the highest digit and a sign of unity among the Bahais. The nine pools on the elevated platform signify the green leaves of the lotus and cool the stark, elegant interior. The sleek architecture has two layers of nine white marble-covered petals that point to the heaven and a lower level of nine petals that conceal the portals. The temple, completed in 1986, was designed by Fariburz Sahba, an Iranian-born Canadian architect. The temple's contours resemble a fantastic work of origami rising out of the earth. The interior conforms to that of all Bahai temples; There are no religious icons, just copies of the holy scriptures. And sleek wooden pews.