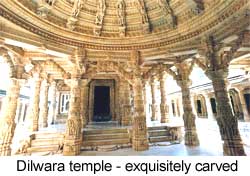 Mount Abu, in Rajasthan, is a holy mountain lying at the southern extremity of the Aravali range. Surrounded by the fine forests rich in flora and fauna , the town appears an oasis. The drive uphill along Abu road overlooks an arid region strewn by huge rocks with smooth surfaces and weird shapes, both fashioned by high velocity winds.
The altitude of the plateau, 1220 m, and abundant vegetation, have endowed Abu with a pleasant climate. It is a resort as well as a celebrated place of Rajput and Jain pilgrimage. Ages ago, cosmic beings walked on this soil along with humans. Abu, according to legend, stands for the son of Himalaya, deriving its name from Arbuda, the powerful serpent who rescued Nandi, the sacred bull of Lord Shiva, from a chasm. Mt. Abu was dedicated to Lord Shiva before it became a Jain pilgrim place. Mt. Abu is particularly famous for its Dilwara Jain temples. Wondrously carved in marble, the Dilwara temples enshrine various Jain 'tirthankaras', saints.
Of the five shrines in this group, four are architecturally significant. They are built with white marble stones. Each has a walled courtyard. In the center of the courtyard is the cell with the image of the deity. Around the courtyard there are numerous small shrines containing one or more images of the Tirthankaras. All these temples seem to have been constructed by the ministers of the Solanki rulers of Gujarat from the 11th to the 13th centuries.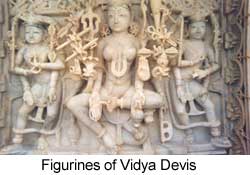 The ceilings of Dilwara temples have magnificient carvings and has an ornamented central pendant. The pendant of the dome comes down and ends in a drop or point. It symbolizes the divine grace coming down to fulfill human aspirations.
The Vimala Vasahi temples was dedicated to Adinath, the first Jain tirthankaras. It was built in the year 1031 A.D. The special feature of this temple is its ceiling which is circular in 11 concentric rings richly carved. The ceiling culminates into a central pendant. Figures of 16 Vidya Devis (goddesses of knowledge) are carved on the ceiling.
The other Dilwara temples are the Luna Vasahi, the Vastupla and Tejapala, ministers of the Vaghela ruler of Gujarat in 1230 A.D. The interiors of all these temples were covered with delicate carvings, while the outside was plain and austere.