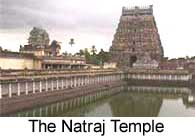 Unlike other large-scale sacred complexes in Southern India, a large portion of this temple is comparatively early; most of the structure dates to the early Chola era. The temple chariot is pulled along these streets during festival times. From each of these gateway, passing ways flanked by low walls lead to towered gopuras in the shared enclosure walls. The most prominent feature here is the Shivganga tank.
To the north is the Subrahmanya temple. The Subrahmanya temple was erected in the second half of the 13th century. While the sanctuary and its surrounding passage ways are plain, the adjoining hall is elaborately treated. The columns are covered with tiers of miniature facades; figural panels adorn the brackets, Access steps are flanked by balustrades with yalis and elephants carved in full relief. Double brick vaults roof the hall; paintings here depict scenes from the Skanda Purana. The image of Subrahmanya enshrined within the sanctuary is about 2.4 m (8 ft) high.
Near the south Gopura a Nandi image is placed in a pavilion; two platforms nearby have unusually high and elaborate basement. The court is entirely occupied by colonades with passage ways.
One of the earliest buildings within the complex is the 12th century Shiva-Kamasundari temple. The surrounding colonnade is elevated on a basement adorned with figures of dancers and musicians as well as friezes of Yalis and horses. The columns are carved with medallions typical of the late Chola era. The paintings on the ceilings date from the seventeenth century.
The wall pilasters within the high passerways are covered with figural sculptures illustrating the different dance movements; explanatory labels are provided for each of the 108 postures in the east and west gateways. Wall niches house portrait sculptures of donors; and images of Krishnadeva Raya, the Vijayanagara ruler, was a later insertion (north gateway). Ceiling panels are adorned with dancers and musicians (east gateway).