North Indian
Central Indian
East Indian
West Indian
South Indian
Hindu Pilgrimage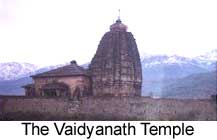 BAIJNATH
Vaidyanath Temple, 1204 and later
This is one of the best-preserved Hindu stone temples in the Kangra valley. Its sanctuary walls are divided both horizontally and vertically into niches; above rises a soaring tower with an amalaka and a pot finial at the summit. Facing west, a later mandapa (mostly rebuilt) adjoins the sanctuary; miniature shrines, complete with their own towers, are inserted into the corners. Among the sculptures in the mandapa there are a Harihara panel and a dancing Shiva carved on a column. Gracefully posed figures of Ganga and Yamuna flank the sanctuary doorway. Several other large panels date from the 13th-14th century.
BAJAURA
Vishveshvara Mahadeva Temple, late 9th century
This Hindu stone temple is one of the best preserved in the Kullu valley. Its overall form and decoration illustrate the influence of contemporary Pratihara traditions from central India. The sanctuary has projecting shrines on three sides and a porch on the front (east), each surmounted by a pyramidal roof. These roofs are adorned with tower-like motifs and large arched niches containing triple heads of Shiva, the god to whom the temple is dedicated. Rising above is the curved shaft of the central tower, which is divided into horizontal sections, with an amalaka at the summit.
The doorways are flanked by pilasters with pot and foliage capitals, and figures of river goddesses; miniature shrine-like motifs are carved on the linters. Of interest are the images housed in the niches, especially Durga (north), Ganesha (south) and Vishnu (west). Among the loose sculptures that were found nearby is an 8th-century image of Vishvarupa; other pieces have been removed to the State Museum, Shimla.