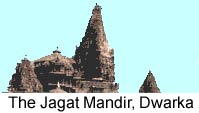 Dwarka is one of the four principal Dhams (pilgrimage centres) of Hindu religion. It is the seat of Dwadash Jyotirlinga - Nageshwar. Dwarka covers three Shakti peeth (Abhaya and Dhara at bet Dwarka and Rukshmani at Dwarka) Shankaracharya made his first pith naming 'Sharda pith' at Dwarka. The 22nd Jain Tirthankar Neminathji got renunciation over here.
The then Kushasthali was reconstructed by Lord Krishna and was named as Dwarka which became his Yadav kingdom's capital. Excavations reveal that the temple belongs to the Pattadkal style. The same history was repeated when excavation was undertaken at bet Dwarka. In all, three jetties were found one beneath the under. Afterward under water excavation below 800 meters were undertaken and pre-historic ruins of 15th century B.C. were found out.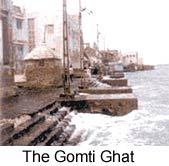 It was further revealed that the present 40 meter wideness of river Gomti at confluence was 400 meters wide 500 years ago.
During excavation old jetty with built-in holed pillars to anchor ships and several holed prismatic anchors, broken chariot hub, pieces of yoke with shell object and pieces of potteries of 3500 years era were found. The age of the founded pieces were determined by radioactive research method.
Okha mandal or Ushamandala, also known as Ushadvipa or Kusadvipa, is practically an island cut off from the rest of the peninsula of Saurashtra by the Okhamadhi Rann. Dwarka was built, according to Mahabharata and other texts on the ruins of Kusasthali the earlier capital founded by Kakudmin Raivata . It was noticed that the then sea level was lower than at present or else the sea must have receded before Kusasthali and Dwarka were built, which has been interpreted by the author of the Harivamsha as 'yielding of 12 Yojanas of land by the sea. The city of Dwarka has been described as a Jala Durg or Vari Durg - a 'fortress in water' and Udadhimadhyastham i.e.'standing in the sea'. These two attributes of Dwarka suggest that it might have been an island town. Another significant statement in the Mahabharata is that Dwarka rendered impregnable by nature was protected by nature itself.
The reference to Dwarka as an island town made it necessary to explore the island of Bet Dwarka or Shankhodhara situated 2 km off Okha which is 30 km from Dwarka. Bet Dwarka is believed to have been the legendary pleasure resort of Sri Krishna. Under water and underground excavation unearthed three headed animal motif of late Indus type, seal of conch shell, pictorial pottery vessels , inscribed with post Harappan pictorial script praying Varuna 'god of the ocean' at bed level of 10 to 12 meters lower than present level. Considering the yearly rate of deposition of slurry and mud it is revealed that Dwarka like other sea port was submerged many times and again and was rebuilt again and again.
As about architectural beauty of the temple, Lord Krishna built Bhagvadalaya - conference hall on hillock about 21 meters from the sea level. This was a parliament house of Yadavas, the first democratic system in those days. It had 18 pillars on all four directions total 72 pillars. This temple has lintel sand pillars of single piece stones weighing 2 to 3 tonnes each. The construction was done without using lime or cement, but only gravity was the binding force. However the main temple over the idol is seven storied and of 40 meters height and was built out of local calcareous sand stones with good sculptors of Solanki era.
The black marble image of Lord Krishna was established by Adi Shankaracharya in eighth century and the same was hidden underground for a century when Muslims invaded Dwarka and destroyed the pseudo image of Lord Krishna for which 5 Brahmins gave their lives. Their martyrdom is being worshipped by Hindus as Panch-vir and by Muslims as Panch-pir. The Samadhi is situated 100 metres north-west of the temple. Considering its rich heritage, ancient history and archaeological importance and architectural beauty, Dwarka is being visited by scores of pilgrims, tourists and researchists from all around.