North Indian
Central Indian
East Indian
West Indian
South Indian
Hindu Pilgrimage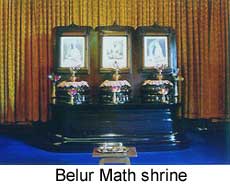 Kali Temple (rebuilt 1809)
This famous shrine overlooking a tributary of the Hoogly river is the holiest in the city. It is here that the animal sacrifices connected with the worship of Mother Goddess Kali takes place. The building is of plastered brick work; the roof have curved cornices in two tiers in the indigenous Bengal manner. There is no original decoration.
Ramakrishna Math, 20th century, Belur
Ramakrishna, the famous Vaishnava saint; died in 1866. Soon after, a Hindu monastic order bearing his name was started by his followers, headed by Swami Vivekanand.
This has now become a world-wide mission. The modern temple which serves as the headquarters of the mission is the largest on Bengal. It is situated at Belur, on the right bank of the Hoogly, about 5 Km (3 miles) from the city centre. The temple is revivalist in structure, blending traditional Bengal features, such as curved cornices and multiple dome-like towers and turrets, with Mughal columns, arches and balconies.