.....Continued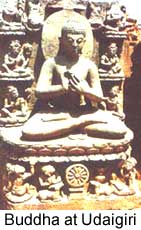 VIHARAS AT UDAIGIRI
The Jain cave temples at Udaigiri near Bhubaneshwar in Orissa, were built by king Kharavela in the beginning of the 5th century A.D. Most of the viharas have elaborate carvings on the projected verandahs supported by pillars. They have arrow of cells for the monks with a gate opening into the courtyard. The significant features of these caves are carved pillar brackets and semi-circular arches resting on pillars with figures of animals carved on the top. The size of the vihara varies from a single cell vihara to a double storeyed vihara. The cells are not very high indicating that these cells were used primarily for sleeping. It is to be noted that there are no Chaityas near these viharas.
KHANDAGIRI
Caves 1 and 2, 1st century B.C.
The doorways that lead into the cells of these caves have pilasters and relief arches decorated with foliation. Between the arches there is a. railing motif (Cave 1), or the representation of a vaulted roof form with pinnacles (Cave 2). The inner brackets are carved with a dancer, musician and devotee, as welt as foliation. Guardian figures flank the verandah of Cave 1.
Cave 3, Ananta Gupha, 1st century BC
The verandah of this cave has part-octagonal columns and curved brackets adorned with ganas and other figures. Above the four doorways, now partly collapsed, are arches in relief containing sculptural compositions: these represent (left to right) elephants, Surya in his chariot, Lakshmi bathed by elephants and worship of sacred tree. The arches themselves are adorned with flowers, figures fighting with animals and birds, there are snakes with raised triple cobra hoods at either side. Between the arches are flying figures.
Caves 7 and 8, mostly 11th century
These adjoining caves were later converted into sanctuaries with figural carvings. Tirthankaras and associated goddesses are carved on to the rear and side walls.
Cave 9, 15th century
Remodelled in later times as a sanctuary, this cave contains twenty-four naked Tirthankara figures of crude workmanship. Three small chlorite panels are installed at the rear of the chamber. These 11th-12th-century sculptures depict Rishabhanath surrounded by Navagrahas.
Caves 10 and 11, 11th century
Three rock-cut shelters (collapsed in Cave 10) have images of Tirthankaras carved on to their rear walls. There are figures of Rishabhanath and Neminatha in Cave 10.
Jain temple, 19th century
At the summit of Khandagiri, a temple in the traditional Orissan style is built upon the remains of an ancient terrace. During the festivals which are held here in February and August, some of the nearby caves may be closed.