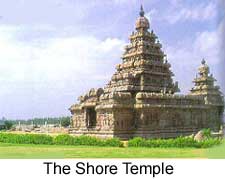 The Shore Temple was built under Narsimha II of the Pallava dynasty between 7th and 8th century A.D. The temple is dedicated to Lord Shiva. It resembles the structure of the Dharmaraja rath, but its tower rises much higher and its stupa on top of the spire is small and slender.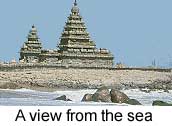 The pyramidal tower of this temple are have beautiful sculptures. It has two towers one higher than the other. The background of the shore and the sea gives this temple a unique sense of romantic beauty.
Besides, the temple has two similar shrines placed back to back, one for Shiva and the other for Vishnu. Both the structures have towers; that is why it is called the double- towered temple. The figure of the lion is used for ornamental purpose in the structure. It is worth noting that the style of this temple inspired the architecture of temples in Indonesia.