North Indian
Central Indian
East Indian
South Indian
Hindu Pilgrimage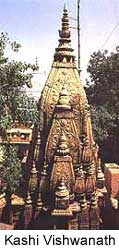 Kashi Vishvanath Temple (Varansi)
Dedicated to Shiva, this shrine in the old city is set back from the holy river Ganga between the Dasashwamedh and the Manikarnika ghats. The most sacred shrine in Varansi, off limits to non-Hindus (non Hindus - it is best seen from the top floor of the house opposite for a trifle amount). Men and Women flock into the temple making offerings to the linga in the inner shrines. The present temple was built by Rani Ahalyabai of Indore in 1776, near the site of the original shrine, which has been destroyed by Aurangzeb. The spire, covered in gold plate, was a gift from the Sikh Maharaja Ranjit Singh in 1835.
BADRINATH
This celebrated Hindu pilgrimage site is situated in a valley dominated by two lofty peaks, Nar Parbet and Narayana Parbet. The temple of Badrinath is said to have been founded by Shankaracharya, the 9th-century philosopher; but the present stone building is a recent structure. Above the sanctuary rises an unadorned curved tower with shallow projections; at the summit is an overhanging wooden roof. The mandapa also has a gabled roof, but a recent extension is provided with a dome. The gateway is built in a revivalist Mughal style. A short distance below the temple are pools supplied by water from thermal springs. Along with Kedarnath, it is famous among the Hindus as one of the four prime pilgrimage centers of the Hindus.
KEDARNATH
Situated at an elevation of 3,580 m (11,750 ft), this celebrated Hindu pilgrimage spot in the high Himalayas is dedicated to Shiva. According to a belief, Shankaracharya, the great philosopher, died here in about 820. Despite the antiquity of the site, the Kedareshvara temple here is of recent date. The sanctuary is contained within an unadorned curved tower with shallow projections and a timber roof at the summit. The projecting mandapa is gabled; its facade displays bands of curved ornamentation and decorated niches.