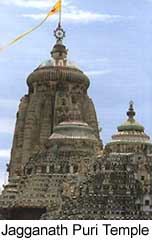 Anantvarman Chodaganga obviously intended this to be the largest religious edifice within his kingdom. Modelled on the Lingraja sanctuary at Bhubaneshwar, but on a grander scale, the monument is raised on a platform and consists of four structures surrounded by smaller shrines and two enclosure walls. (Only Hindus are permitted to enter).
The original temple consists of a towered sanctuary and a mandapa with pyramidal roof; 13th and 15th centuries. The double enclosure walls dates from the Muslim period, when the temples had to be fortified. Rising to a height of about 56.7 metres (186 ft), the tower over the sanctuary is a powerful composition. It has bands in the middle of each sides covered with 18th century plaster illustrations of Vaishnava and Ramayana themes; these are flanked by miniature tower like elements, one upon the other.
The large amalaka capping piece has crouching figures and animals beneath; above is a pot finial, disc and flag, the last indicating the presence of the deity. Recently, the outer sanctuary walls have been cleaned off accumulated plaster layers to reveal a double series of sculpture niches. Each niche is surmounted by a tower like pediment and separated one from the other by horizontal mouldings that reproduce those of the basement. The sculptures in the middle of each side are housed in two storey shrines (13th century addition); these depict Vamana (north), Narasimha (west) and Varaha (south). The deep recesses between the principal niches are occupied by large figures of fully modelled maidens.
The walls of the original mandapa are similar to those of the sanctuary, except for doorways in the middle of each side. The pyramidal roof has central projections with capping elements that represent the large example at the summit. The later mandapa additions, particularly the 15th century structure (extreme east of the ensemble), maintain the highly elaborate wall treatment in which the sculptural and architectural elements are integrated.
Parts circular pilasters and horizontal mouldings divide the fašade into numerous panels. Carvings display a distinctive royal iconography, the King is depicted enthroned, seated in a swing, standing, with female attendants in a boat, with a procession of soldiers, horses and elephants, carried in a palanquin and worshipping Durga. Images of Krishna, Rama, Shiva and the Dikpalas are included in the sculptural programmes.
Within the compound is the 12th century shrine of Lakshmi, the walls of which are covered with lotus ornament, miniature figures, coiled nagas and gracefully posed maidens. The windows with their sculpted blocks, are surrounded by a bands of scrollwork. The main (east) gate of the complex has an elaborate doorway and a pyramidal roof cap with amalakas. In front is a multi faceted column on a carved base with a figure of Aruna on the top. This originally stood before the Surya temple at Konark.