Thanjavur Temple
Thanjavur was the Chola Capital city and was also called the Granary of South India. It was the royal city of the Cholas, Nayaks and the Mahrattas.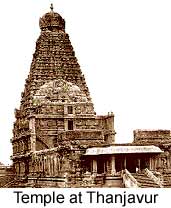 According to a popular legend, Thanjavur was named after Tanjan-an asura (a demon), who plundered the neighbouring states and was ultimately killed by Sri Anandavalli Amman and Lord Vishnu. Tanjan's last request that the city must be named after him was granted.
Thanjavur was at height of its glory during Rajaraja Cholan. It became a well known center of all the classical arts and music. It has produced many classical musicians and bharathanatyam dancers and is also well known for its unique painting style called Tanjore Painting and Thavil, a percussion instrument.
There are lots of beautiful temples in Thanjavur region. The famous Thanjavur Temple stands tall with its beaming tower. It's one of the architectural wonders of the world.
Mahadeva Temple
The large Hindu shrine is typical of the Kerala series. A square sanctuary enshrining a linga is contained within a circular columned mandapa. Both sanctuary and mandapa are roofed with a conical timber structure covered with metal tiles which rises smoothly to a brass pot finial at the apex. The roof overhangs an open wooden screen that admit light to the circular passageway surrounding the mandapa. This screen is carved with friezes of scenes from Ramayana and Krishna stories.
Similar carvings are seen within the circular passageway, where angled brackets are carved as deities and other figures. The three doorways are flanked by wooden guardian figures, dancers and musicians. Stone balustrades at the steps are also adorned with sculptures. Standing in front (west) of the temple is a detached open square pavilion with a pyramidal roof. The wooden ceiling within the mandapa is divided into 25 panels, each depicting a different divinity.
The temple is contained within a rectangular enclosure defined by colonnades wit sloping roofs. The entrance on the west is marked by a double tier of gabled roofs with tiles. On the walls of the inner porch of this gateway are largely painted compositions dating from the middle of the 17th century. They include an animated depiction of multi-armed Shiva dancing on a dwarf within a circular frame. Among the crowd of attendant figures are Krishna and Brahma (left). In another composition Vishnu is shown reclining on Shesha.