North Indian
Central Indian
East Indian
West Indian
South Indian
Hindu Pilgrimage

......Continued
JAMMU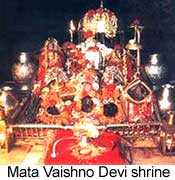 Vaishno Devi
The holy cave shrine of Vaishno Devi, though not being a place of any architectural interest, is yet a very popular pilgrimage among the Hindus. Devotees from round the country throng to the shrine everyday. It is located in the serene niches of the Trikuta Mountains forming a part of the lower Himalayas. Situated 61 km north of Jammu at a height of 5,200 feet above the sea level in the state of Jammu and Kashmir, it is a worthwhile feast for the tourist also. In the cave there are images of three deities viz. the Mahakali, Mahalakshmi and Mahasaraswati (all three are considered to be forms of Ma Shakti, the Goddess of Energy). The shrine is visited all through the year, but the path is difficult during the winters when the route is often blocked by snow-fall.
Raghunatha Mandir, 1857
Inaugurated by the local ruler Ranbir Singh, this sacred Hindu complex is the focus of the religious and cultural life of the town. The temple consists of seventeen shrines, each with a steeply angled tower unadorned except for shallow projections on each side. Over the principal central shrine, the tower has a curved profile. Fluted wall pilasters and shallow niches with lobed arches indicate the influence of late-Mughal architecture.
The principal sanctuary is dedicated to Rama, the patron deity of the Dogra kings; the niches in the outer walls contain the Navagrahas and the Dikpalas. A portrait of the royal patron and an imposing sculpture of Hanuman flank the entrance. Subsidiary mandapas contain innumerable shalagramas brought from the bed of the Narmada river in the northern Deccan. Other shrines house images of the incarnations of Vishnu, as well as of Surya and Shiva.