The tragic events that accompanied the partition of the country produced a sense of disillusionment and mourning. In literature, a conflict developed between the trend toward Western modernity and traditional Indian values.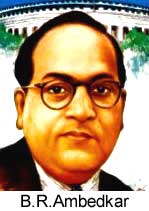 Social realism became a dominant trend in Indian literature. Representative of this movement are Muktibodh, writing in Hindi, and Vishnu Dey, in Bengali. The group of Telugu Digambar (naked) poets wrote political poetry with themes of pain and struggle. In Kannada, the Bandaya (rebel) poets were concerned with violence and social divisions. In the 1970's, the literary movement called post-modernism appeared in India.
Dalit literature. One of the most significant features of the post-modernist movement in India is literature dealing with the social outcast, or dalit (downtrodden). Marathi, Gujarati, and Kannada writers started the dalit movement under the leadership of B. R. Ambedkar . Marathi writers including the poets Namdev Dhasal and Narayan Surve and novelists Daya Pewar and Laxman Gaikwad reflect the anguish of a community. They demand the shaping of a just and realistic future for the underprivileged and the outcast in society.
The Kannada novels of Mahadev Devanur and the Gujarati novels of Joseph Macwan deal with the experience of violence, protest, and exploitation. Dalit literature introduces a new world of experience in Indian literature. It widens the range of expression and makes use of the language of the outcasts and underprivileged in Indian society.