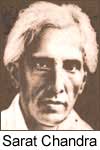 During the late 1800's, the various regions of India began to share a common purpose in reacting to the British presence in their country. A nationalist movement gradually grew in strength. This movement was the inspiration behind much Indian writing in the 1800's and early 1900's. A common pattern exists in the modern literature of most Indian languages. The spread of journalism helped the development of prose writing, with the short story becoming especially popular.
Writers such as the Bengali Bankim Chandra Chatterjee (1838-1894) attacked colonialism and created their own brand of nationalism. Bankim's historical novels achieved popularity throughout the subcontinent and helped spread nationalism and patriotism. Rabindranath Tagore (1861-1941), the greatest name in modern Indian literature, made federalism an important part of his concept of national ideology. He said that the unity of India should be a unity in diversity.
Patriotic writings grew almost simultaneously in different languages as part of the resistance of a community to foreign rule. For example, Rangalal in Bengali, Mirza Ghalib (1797-1869) in Urdu, and Bharatendu Harishchandra (1850-1885) in Hindi all expressed their opposition to colonial rule and wrote about the glorification of India.
The Bengali writer Michael Madhusan Dutt (1824-1873) wrote the first modern epic in an Indian language. Subramania Bharati (1882-1921) was a great Tamil poet who revolutionized the poetic tradition in Tamil. Maithili Saran Gupta (1886-1964) and Bhai Vir Singh (1872-1957), writing in Hindi and Punjabi respectively, took themes from mythology and history for their patriotic epics.
The first Indian novels appeared in the late 1800's. Krishnamona Chetty's Sri Ranga Raja (1872) was the first novel in Telugu; Samuel V. Pillai's Pratap Mudaliyar Charitram (1879) was the first in Tamil; and Chandu Menon's Indu Lekha (1889) the first in Malayalam. These novels questioned contemporary social practices and customs. Similarly, the Bengali novel Phulmani O Karunar Bibaran (1852) by the English writer H. Catherine Mullens and the Hindi novel Pariksha Guru (1882) by Lala Sriniwas Das examined social issues.
Historical novels were written by Bankim Chandra Chatterjee in Bengali and Hari Narayan Apte in Marathi to describe the glorious past of India and instill nationalist sentiments in their readers. Tagore wrote his novel Gora (1910) to challenge colonial rule and to give new meaning to Indian nationalism.
Gandhi's influence. The ideas of Gandhi deeply affected India in the decades leading up to independence in 1947. Gandhi, writing in Gujarati, English, and Hindi, used the language of common people. He used the weapons of truth and nonviolence and spoke out in favour of traditional values and against industrialization. Gandhi became a symbol of peace and idealism. Writers of fiction and poetry in almost all the Indian languages adopted the Gandhian figure as a theme of cultural nationalism.
Saratchandra Chattopadhyay (1876-1938) is one of the most popular Bengali novelists. A Gandhian and a socialist, his influence spread throughout India with translations of his books in various Indian languages. Premchand (1880-1936) wrote novels in Hindi. He wrote about the plight of the poor in India. His greatest achievement, the novel Godan (The Gift of a Cow, 1936), tells the story of a debt-laden peasant and his struggle for survival.