Languages
Ancient
Literature
Medieval
Modern

....Continued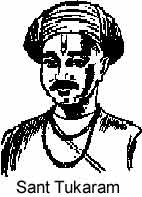 The dawn of 17th century was most eventful in the political and literary history of Maharashtra. Tukaram (1608-49), the greatest saint poet of the language contributed in such measure to devotional poetry that he is remembered with great veneration even today. A shudra by birth, he wrote 3000 Abhangas. Their appeal is timeless. He was followed by Ramadas.
Coming to the Peshwa period, Krishnadayarnava and Sridhara are the leading poets. New literary forms were successfully experimented with during the period and classical styles were revived, especially the Mahakavya and Prabandha forms. A period of transition followed in the first half of the 19th century. In 1818, Maharashtra lost its freedom to the British. Keshavasut, the father of modern Marathi poetry published his first poem in 1885. The years in between witnessed a great change in the literary scene. Infact, modern Marathi literature took shape during this period.
As in other Indian languages, the Christian missionaries played an important role in the production of scientific dictionaries and grammars. Periodicals slowly became popular, starting with Digdarshan in 1840 about the same time Darpan, the daily newspaper, also came into being. Modern Marathi prose flourished through various new literary forms like the essay, the biographies, the novels, prose, drama etc. Chiplunkar's Nibandhmala (essays), N.C.Kelkar's biographical writings, novels of Hari Narayan Apte, Phadke and V.S.Khandekar, and plays of Mama Varerkar and Kirloskar's are particularly worth noting. Apte's novel Pan Lakshat Kon Gheto which deals with the poignant experience of a child widow has been translated into many Indian languages.
Similarly Khandekar's Yayati which has won for him, the Jnanpith Award is a very noteworthy novel. Vijay Tendulkar and C.T.Dhanolkar have written and produced a good number of plays which have earned a reputation beyond the border of Maharashtra during the last quarter of a century. B.S.Mardhekar wrote the first stream of conciousness novel in Marathi viz. Ratricha Divas (1942) and it was a great success. Ratha Chakra (chariot wheel, 1962) by S.N.Pendse explores the relationship between physical environment and mental life.