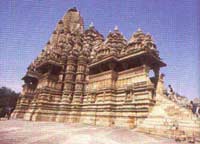 The earlier Chandellas chiefs were local feudatories of the Imperial Pratiharas.The first notable Chandella prince was Harsha, who reinstated in circa.917. His son and successor, Yasovarman, alias Lakshavarman, was even more powerful. According to a Khajuraho inscription of his son, dated 945, Yasovarman built a magnificent temple of Vishnu, identifiable with the Lakshamana temple at Khajuraho.
Yasovarman was succeeded by his son Dhanga (circa.950-1002). His territories extended from Vidisha to Gwalior and from Varanasi to the Narmada. He was a great patron of art and architecture. During his reign were built two of the finest surviving temples of Khajuraho, viz. the Vishvanath and the Parsvanath, the former of the king himself in 1002 and the latter during his reign by one Pahila, who was 'honoured by king Dahinga'.
It is, however, not possible to identify a third temple, dedicated to Vaidyanath (Siva) and constructed by one Kokkala of the Grhapati family in 1001 during: Dhangra's reign.
Dhangra's son and successor was Ganda, who enjoyed his paternal dominion without any diminution during his short and peaceful reign (circa.1002-17). The Vaishnava temple, now known as Jagadambi, and the Sun temple, now called Chitragupta, both situated close to each other as constituents of the western group of the royal temples at Khajuraho, may probably be attributed to this king.
Ganda was succeeded by his son Vidyadhara (circa.1017-29), who is referred to by Ibnu'l-Athir, a muslim chronicler, as Bida and described as the most powerfull Indian ruler of his time. Under him the Chandella kingdom reached the zenith of prosperity.
The authorship of the Kandariya-Mahadeva temple, the largest and grandest temple of Khajuraho, may plausibly be attributed to him.
After the death of Vidyadhara, the Chandella power gradually declined owing to the determined onslaughts of the powerfull Kalachuris and muslim invaders. But the artistic momentum of Khajuraho was not lost abruptly and temples continued to be build here till the 12th century, such as the Vamana, Adinatha, Javari, Chaturbhuja and Duladeo, the last erected during the first half of the 12th century. Khajuraho continued to be the religious capital of the Chandellas till their last days.
Ibn Battuta refers to Khajuraho as Kajarra 'Where there is a great pond, about a mile in length, near which are temples containing idols which the muslims have mutilated. In the center of the pond there are three Cupolas of red stone each of three stories: and at each four corners of the pond are Cupolas in which live a body of the jogis who have clotted their hair and let them grow so that they became as long as their bodies and on account of their practising asceticism their colour had become extremely yellow. Many mussalmans follow them in order to take lessons from them.'
Art and Architecture.......