Nehru Era
Indira Era
Vajpayee Era
Chronology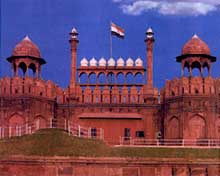 The era after India's independence from colonial rule starts with its partition into two halves – India and Pakistan. Lord Mountbatten became the first Governor General of free India and M.A. Jinnah that of Pakistan. The transition was violent, with blood curling massacres all over the country, ample proof to the historic acrimony that the Indians shared within themselves.

This bitterness continues till today with India and Pakistan having fought three wars since independence. Events since independence has not quite been stable for both the countries. With both of them marred by sectarian clashes and violent terrorist attacks, which by now has claimed the lives of more than a million people throughout the sub-continent.

India on its part has been successful in establishing a vibrant democracy and has ever looked forward towards positive directions. But Pakistan is still struggling to establish itself as a state and has not been able to overcome the colonial hang over. With its history marred by failed democratic experiments and successful military takeovers.

People of Pakistan are struck with a Herculean task of choosing between democratic farce and autocratic misrule. It is not just Pakistan that has corrupt politicians and ambitious military. India too has its share of problems with politicians and bureaucracy but the best thing in India is that people out there know their limitations. With 1 billion people having successfully tasted democracy for the past fifty years, they have successfully reaffirmed their faith time and again in the institution.

At the doorsteps of the 20th century both of them provide a contrasting picture. Both of them have their fare share of problems, but on one side India is looking forward to solving them on other side Pakistan is getting messed up with it.

In this section we would be bringing to you a complete analysis about events that has been on the forefront after India's independence. This section contains complete information about India since 1947 to 2000.