Nehru Era
Indira Era
Vajpayee Era
Chronology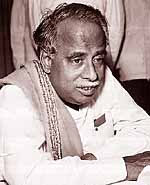 The DMK emerged in the fifties as a party and a movement that thrived on strong caste, regional, and even secessionist sentiments. It was the heir to two strands of the pre-independence period movements in Tamil Nadu the non-Brahmin movement, which had led to the formation of the pro-British Justice party in 1920, and the strongly reformist anti-caste, anti-religion Self-Respect Movement led by E.V. Ramaswamy Naicker, popularly known as Periyar (Great Sage). In 1944, Naicker and C.N. Annadurai established Dravida Kazhagam (Federation) or DK which split in 1949 when Annadurai founded the Dravida Munnetra (Progressive) Kazhagam (DMK). But, significantly, in contrast to the Justice party and Naicker, Annadurai had taken up a strongly anti-imperialist, pro-nationalist position before 1947.

Annadurai was a brilliant writer, a skillful orator and an excellent organizer. Along with M. Karunanidhi and M.G. Ramachandran (MGR) and other film personalities—actors, directors and writers—Annadurai used dramas, films, journals, pamphlets and other mass media to reach out to the people and over time succeeded in building up a mass base, especially among the youth with a rural background, and a vibrant political organization.

The DMK was strongly anti-Brahmin, anti-North and anti-Aryan— southern Brahmins and North Indians being seen as Aryans, all other South Indians as Dravidas. It raised the slogan of opposition to the cultural, economic and political domination of the South by the North. Naicker and others had earlier in 1938 organized a movement against the decision of the Congress ministry to introduce Hindi in Madras schools, labelling it to be an aspect of Brahmanical North Indian cultural domination. DMK also decided to oppose what it described as expansion of Hindi 'imperialism' in the South. Its main demand, however, was for a homeland for the Dravidas in the form of a separate independent South Indian state—Dravidnadu or Dravidasthan— consisting of Tamil Nadu, Andhra, Karnataka and Kerala.

During the fifties and sixties, however, there were several developments that gradually led to a change in the basic political thrust of DMK. Naicker gave up his opposition to Congress when in 1954, Kamaraj, a non-Brahmin, displaced C. Rajagopalachari as the dominant leader of Congress in Tamil Nadu and became the chief minister. DMK leadership too gradually lessened its hostility to Brahmins and started underplaying its anti-Brahmin rhetoric.

There was also a gradual change in DMK's secessionist plank as it began to participate in elections and in parliamentary politics. That a change was coming became visible when, in the 1962 elections it entered into an alliance with Swatantra and CPI and did not make a separate Dravidnadu a campaign issue though it was still a part of its manifesto. Later still, during the India-China war, it rallied to the national cause, fully supported the government, and suspended all propaganda for secession.

A further and final change came when, as a result of Nehru's determination to deal firmly with any secessionist movement, the 16th Constitutional Amendment was passed in 1962 declaring the advocacy of secession a crime and requiring every candidate to parliament or state assembly to swear 'allegiance to the Constitution' and to 'uphold the sovereignty and integrity of India.' The DMK immediately amended its Constitution and gave up the demand for secession. From secessionism it now shifted to the demands for greater state autonomy, more powers to the states, while limiting the powers of the central government, an end to the domination and unfair treatment of the South by the Hindi-speaking North, and allocation of greater central economic resources for the development of Tamil Nadu. It also further softened its anti-Brahmin stance and declared itself to be a party of all Tamils, which would accommodate Tamil Brahmins.

After Annadurai's death in February 1969, M. Karunanidhi became the chief minister. In 1972, the DMK split, with MGR forming the All-India Anna DMK (AIADMK). The two-party system now emerged in Tamil Nadu, but operated between the two Drayida parties, with both parties alternating in power in the state since then.