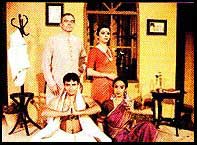 The origin of Indian theatre can be linked to the tale that the fifth Veda 'Natya' originated as per the desire of Brahma (the creator) to entertain Gods. It is certain that the origin of Indian drama is closely related to the ancient religious rituals and seasonal festivities in one manner or the other.
In ancient times the Indian thinking was largely towards searching the truth and depicting the same rather than depend on realism and materialism. It could help in expressing wide varieties of characters and incidents as well as finer emotions.
The most renowned and talented dramatists of the ancient era are Kalidas, Ashwaghosha, Bhasa, Shudraka, Harsha, Bhavabhuti, Vishakadatta, Bhattanarayana, Murari and Rajashekhara who enriched Indian theatre with their works like 'Madhyam Vyayoga', 'Urubhangam', 'Karnabharam', 'Mrichakatikam', 'Abhigyan Shakuntalam', 'Malavikagnimitram', 'Uttar Ramcharitam', 'Mudrarakshas', 'Bhagavadajjukam', 'Mattavilasa' etc.
Historically, the rich style of old classical theatre patronized by the state and the more popular form of theatre supported by people at large got amalgamated and transformed into various local styles in the medieval period due to various socio-political and cultural reasons.
By the middle of 19th century the prominent surviving local styles were 'Jatra' in Bengal, 'Tamasha' in Maharashtra, 'Bhavai' in Gujarat, 'Nautanki in Uttar Pradesh , 'Maach' in Madhya Pradesh , 'Khayal' in Rajasthan, 'Naqul' in Punjab, 'Yakshagana' in Karnataka and 'Koodiyattom' in Kerala.
The beginning of the modern Indian theatre can be traced back to 1795, when a Russian dramatist staged a play. But the real beginning was in 1831, when Prasanna Kumar Thakur established 'Hindu Rangamanch' at Calcutta and staged Wilson's English translation of Bhavabhuti's Sanskrit drama 'Uttar Ramacharitam'. Bengali theatre continued its journey through 'Kirtivilas' of Yogendra Chandra Gupta, 'Bhadrarjuna' of taracharan, 'Kulin Kula Sarvaswa' of Ramanarayana Tarkaratna and'Neel Darpan' of Deenbandhu Mitra.
Social dramas of Girish Chandra Ghosh, historical dramas of D.L.Roy and artistic dramas of Rabindranath Tagore continued to reach up to the stage of realistic dramas during the period of worst ever famine of Bengal and the Second World War. This was the beginning of the parallel theatre. 'Navanna' of Bijon Bhattacharya written in the background of the famine rocked the whole Indian theatre. It was directed by Shambhu Mitra whose group 'Bahuroopi' enriched the Bengali theatre for long.

Continue>>