Paintings
Sculptures
Dances
Theatre
Cinema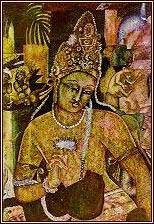 Unlike the architectural and sculptural records, that of Hindu painting from Central India and the Deccan is slightly different. Undoubtedly here, as throughout India, temples were enlivened from the earliest times with murals as well as paintings on cloth; few have survived from the remote past.

At Ellora, in the Kailasanatha temple, a few slight fragments of mural painting have survived, illustrating Shiva in his Nataraja and lingodbhava forms (dancing and emerging from the linga). However, it is not until the Vijayanagara period (fourteenth to sixteenth century) that murals survive in anything like appreciable units.

At the Virupaksha temple at Vijayanagara itself, the painted ceiling of the main mandapa has been repainted, yet gives some idea of the effect such murals would have produced in the fifteenth century. More remarkable, though, are the, murals in the ceiling of the mandapa at the mid-sixteenth century temple, at Lepakshi dedicated to Shiva as Virabhadra, in southern Andhra Pradesh .

A large Virabhadra image dominates the scheme, though it is today difficult to see it. More clearly visible are rows of male and female devotees and an anthology of Shaiva scenes, including the kiratarjuniyam (Arjuna fighting with Shiva disguised as a hunter).The style is essentially flat and without any concept of three-dimensional space. Colours are muted, but the great variety seen in the clothing of the figures emphasis again the interest in pattern and design in traditional Indian painting.

This textile variety again brings to mind the importance in Indian artistic traditions of textile manufacture. Indeed, other types of painting which survive from the Deccan are paintings on cloth which were either hung from the ceilings of shrines and mandapas, or from the similar architectural interiors of processional chariots, rathas . These are generically known as kalamkari (pen-drawn).Although this painting tradition was originally practised in many parts of India, the town of Kalahasti in the south eastern Deccan has, in recent centuries, become associated with it above all others.

Usually the cloths show the deity centrally with, all around, registers where the legends of the god or extracts from the epics are depicted. Faces, with the exception of the main deity, are usually in profile, bodies are hieratically drawn, and patterning with abstract designs is common. The cloths inherit all of these features from the mural-painting tradition, as exemplified by Lepakshi. Other paintings on cloth have survived from the South Andhra coast, including a spectacular hanging of the earlier 17th century, now in the Brooklyn museum. However, its subject is secular- a king receiving tribute.