Paintings
Sculptures
Dances
Theatre
Cinema

The thirties is recognised as the decade of social protest in the history of Indian Cinema. Three big banners - Prabhat, Bombay Talkies and New Theatres gave the lead in making serious but gripping and entertaining films for all classes of the wide audience.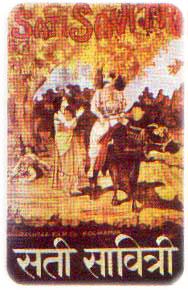 A number of films making a strong plea against social injustice were also made in this period like V. Santharam's Duniya na Mane, Aadmi and Padosi, Franz Osten's Achut Kanya, Damie & Fatehlal's Sant Tukaram, Mehboob's Watan, Ek hi Raasta and Aurat. For the first time Ardeshir Irani attempted a colour picutre in 1937 with Kisan Kanya.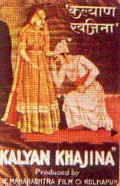 The decade also witnessed the release of the first talkie films in Marathi (Ayodhiyecha Raja- 1932); Gujarati (Narasinh Mehta - 1932); Kannada (Dhurvkumar - 1934); Oriya (Sita Bibaha - 1934); Assamese(Joymati -1935); Punjabi (Sheila- 1935) and Malayalam (Balan - 1938).
The decade during which the Second World War was fought and Indian independence won, was a momentous one for cinematography all over India. Some memorable films were produced during the forties such as Shantharam's Dr. Kotnis Ki Amar Kahani, Mehboob's Roti, Chetan Anand's Neecha Nagar, Uday Shanker's Kalpana, Abbas's Dharti Ke Lal, Sohrab Modi's Sikander, Pukar and Prithvi Vallabh, J.B.H. Wadia's CourtDancer, S.S.Vasan's Chandralekha, Vijay Bhatt's Bharat Milap and Ram Rajya, Rajkapoor's Barsaat and Aag.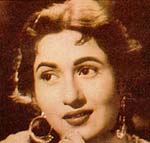 The first International Film Festival of India held in early 1952 at Bombay had great impact on Indian Cinema. The big turning point came in 1955 with the arrival of Satyajit Ray and his classic Pather Panchali which opened up a new path leading the Indian film to the World Film scene. International recognition came to it with the Cannes award for best human document followed by an unprecedented crop of foreign and national awards.
In Hindi Cinema too, the impact of neorealism was evident in some distinguished films like Bimal Roy's Do Bigha Zamin, Devadas and Madhumati, Rajkapoor's Boot Polish, Shri-420 and Jagte Raho, V. Shantharam's Do Aankben Barah Haath and Jhanak Jhanak Payal Baaje, Mehboob's Mother India, Gurudutt's Pyaasa, and Kagaz Ke Phool and B.R.Chopra's Kaanoon; The first Indo-Soviet co-production Pardesi by K.A.Abbas was also made during the fifties.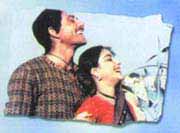 The transition to colour and the consequent preference for escapist entertainment and greater reliance on stars brought about a complete change in the film industry. The sixties was a decade of mediocre films made mostly to please the distributors and to some extent, meet the demands of the box office.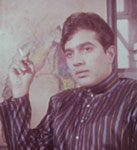 The sixties began with a bang with the release of K.Asif's Mughal-E-Azam which set a record at the box-office. It was followed by notable productions, which include romantic, musicals, and melodramas of a better quality. Rajkapoor's Jis Desh Mein Ganga Behti Ha, Sangam, Dilip Kumar's Gungajamuna, Gurudatt's Sahib Bibi aur Gulam, Dev Anand's Guide, Bimal Roy's Bandini, S.Mukherji's Junglee, Sunil Dutt's Mujhe Jeene Do and the experimental Yaadein, Basu Bhattacharya's Teesri Kasam, Pramod Chakravorthy's Love in Tokyo, Ramanand Sagar's Arzoo, Sakhti Samantha's Aradhana, Hrishikesh Mukherji's Aashirwad and Anand, B.R. Chopra's Waqt, Manoj Kumar's Upkar, and Prasad Production's Milan were the significant Hindi films of the decade.

Continue.....