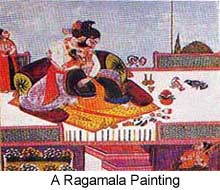 In subject, the range of Rajput painting was wide, and included portraiture and genre scenes. Also included were series of paintings known as ragamalas (literally, a garland [mala] of music [raga]) which embody the idea that the emotions experienced in music could be portrayed in painting.
These musical paintings sometimes used religious subjects to illustrate the emotions. Such subjects included both scenes from the epics and the Puranas, but above all stories from the legendary cycles of the life and deeds of Krishna. Finally, scenes of devotees at their worship were also produced from the courtly atelier, and provide fascinating detail of religious activity at the western Indian courts.
As Mughal power declined following the death of Aurangzeb in 17I7, the Rajput states became increasingly unable to continue independently, and within a hundred years had entered into treaty agreements with the new British power. While the courts continued right up until Independence in I947, only a few of the painting ateliers, such as the one at Udaipur, survived the initial surrender of power.
A quite different type of western Indian painting is the style which has developed around the pilgrimage centre of Nathdvara, in Rajasthan. Here in an haveli temple, the image of Krishna as Shrinathji is enshrined. Two categories of painting are particularly associated with the shrine: the small paintings produced for pilgrims to carry away with them and the much grander paintings and hangings (pichhwai) which were placed behind the image in the central shrine. The sacred calendar of the followers of Vallabhacharya at Nathdvara is full of festivals and days commemorative of different events in the life of Krishna. For each of these, a different pichhwai was displayed in the temple.
At other Valfabha haveli, similar paintings are also displayed. They are notable for the delightfully realistic way in which animals and plants are shown, while humans - and above all the totemic image of Krishna - are depicted with an hieratic and impressive stiffness.
A final category of western Indian painting is the type of narrative painting associated with story-telling. Although long scrolls similar to the more famous Bengali examples are known from western India, the most renowned type of story-telling paintings are those prepared on large rectangular sheets of cloth, which use a bright palette with scarlet predominantly. These recount the exploits of the hero, Pabuji, and are used at night time performances when the individual sections of the painting are illuminated as the epic unfolds in the age old Indian combination of sung recitation and pictorial representation.