Koodiyattam: This is always a long drawn out affair and may take anywhere from a few days to a number of weeks. It is both entertainment and edification. The Vidhushaka rules the roost. He moralises and his armoury satire and innuendo has some times no relevance to the theme of the play.
Krishnanattam: It is intended for presentation on eight successive nights to unfold the entire story of Lord Krishna; the style is almost akin to Kathakali.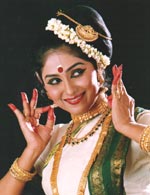 Mohiniyattam: is also the heir to Devadasi dance heritage like Bharatanatyam, Kuchipudi and Odissi. The word Mohini literally means a maiden who exerts desire or steals the heart of the onlooker. There is the well-known story of Lord Vishnu taking on the guise of a Mohini to enthral people, both in connection with the churning of the milk-ocean and with the episode of the slaying of Bhasmasura. Thus it is thought that Vaishnava devotees gave the name of Mohiniyattam to this dance form.
In format, this is similar to Bharatanatyam. The movements are graceful like Odissi and the costumes soberand attractive. It is essentially a solo dance.
The first reference to Mohiniyattam is found in Vyavaharamala , composed by Mazhaman-galam Narayanan Nambudiri, assigned to the 16th century A.D.
In the 19th century SwathiTirunal, the king of erstwhile Travancore, did much to encourage and stabilize this art-form. It was Poet Vallathol who again revived it and gave it a status in modern times through Kerala Kalamandalam, which he founded in 1930. Kalamandalam Kalyaniamma, the first dance teacher of Kalamandalam, was instrumental in resuscitating this ancient art form. It is slowly trying to acquire an identity and classical status.
Ottan Thullal: It is performed solo and because of its ready mass appeal, it is also known as the poor man s Kathakali. Kunjan Nambiar evolved it and brought out the social conditions of his time, the distinctions of class and the weaknesses and whims of the rich and the great. The dialogue is in simple Malayalam and therefore ensures mass appeal.
Yaksha Gana: This belongs to Karnataka and has a rural origin. It is an admixture of dance and drama. Its heart lies in Gana meaning music. It is about 400 years old. The language is Kannada and the themes are based on Hindu epics. The costumes are almost akin to the Kathakali ones and the style seems to have drawn inspiration from Kathakali. As prescribed in the Natya Shastra, it has the Suthra Dhara (conductor) and the Vidhushaka (the Jester).