Paintings
Sculptures
Dances
Theatre
Cinema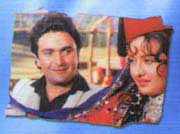 The late eighties and early nineties saw the revival of the musical love stories in Hindi cinema. Mr. India, Tezaab. Qayamat Se Qayamat Tak, Maine Pyar Kiya, Chandni, Tridev, Hum, Ghayal, Saudagar, Rakhwala, Jo Jeeta Wohi Sikander,Heena,Hum Hain Rahi Pyarke, Baazigar, Aaina, Yeh Dillagi, Hum Aapke Hai Kaun, Krantiveer, Raja, Rangeela were some of the popular Hindi films of the last decade.

The first half of nineties witnessed the release of some better films in Hindi as well as in other regional languages. Drishti and Drohkal (Nihalani), Lekin (Gulzar), Disha (Sai Paranjpe), Prahar(Nana Patekar), Parinda (Vinod Chopra), Diskha (Arun Kaul), Kasba (Kumar Shahani), Rudaali(Kalpana Lajmi), Maya Memsaab (Ketan Mehta), Mujhse Dosti Karoge (Gopi Desai), Suraj Ka Satwan Khoda & Mammo (Benegal), Woh Chokri (Subhanker Ghosh) & Ek Doctor Ki Maut (Tapan Sinha) were some of the notable Hindi films.
From Bengal, Orissa, Assam and Manipur came films like Tahader Katha, Bagh Bahadur, Charachar (Buddhadeb Dasgupta), Uttoran (Sandip Ray), Wheel Chair(Tapan Sinha), Unishe April (Rituparno Ghosh), Adimimansa, Lalvanya Preethi (A.K.Bir), Nirbachana (Biplab Roy Chowdhari), Halodhia Choraya Baodhan Khai, Firingoti (Jahnu Barua), Haladhar (Sanjeev Hazarika), and Ishanou (Aribam Shyam Sharma).
In the South Malayalam Cinema presented some notable films. They include Vasthuhara (Aravindan), Vidheyan (Adoor), Kireedom, Bharatham (Siby Malayil), Amaram (Bharathan), Innale (Padmarajan), Oru Vadakkan Veeragatha, Sargam, Parinayam (Hariharan), Devasuram (I.V.Sasi), Kilukkam, Thenmavin Kombath (Priyadarsan), Perumthachan (Ajayan), Daivathinte Vikruthikal (Lenin Rajendran), Kadavu (M.T.), Yamanam (Gopi), Abhayam (Sivan), Manichithrathazu(Fazil), Ponthanmada (T.V.Chandran) and Swaham (Shaji).
From Tamil and Telugu cinema, there came few films like Anjali, Roja and Bombay (Mani Ratnam), Marupakkam and Namniavar (Sethumadhavan), Kamthamma (Bharathi Raja), Surigadu (Dasari Narayana Rao), Mati Manushulu (B.Narasinga Rao), Swathi Kiranam (K.Viswanath), MoghaMul (G.Rajasekharan) etc. English films like Miss. Beatty's Children (Pamela Rooks), and English August (Dev Benegal) were also produced during this period.