Alphabetical Order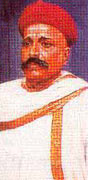 Tilak, Bal Gangadhar (1856-1920), an Indian politician and journalist, was an early leader in the campaign for Indian independence from British rule.

Tilak was born in the Ratnagiri district on the west coast of India. He was educated at Deccan College in Pune, where he obtained degrees in arts and law. He worked as a teacher at the New English School, and also wrote regularly in the newspapers Kesari (The Lion), published in the Marathi language, and The Mahratta, published in English. He was fined for his criticism of the government.

During a famine in 1896 and a plague epidemic in 1897, Tilak tried to help the people suffering in these two disasters. Unlike other leaders, Tilak, in 1897, stayed in Poona and organized his own measures against the Plague. He criticized the harsh and heartless government methods used to combat the plague and was arrested on 27th July 1879 and tried before Justice Strachey and a jury of six Europeans and three Indians. The charge was based on the publication in the Kesari of 15 June of a poem titled 'Shivaji's Utterances' read out by a young man at Shivaji festival and on a speech Tilak had delivered at the Festival in defence of Shivaji's killing of Afzal Khan.

Tilak's defence of Shivaji's killing of Afzal Khan was portrayed by the prosecution as an incitement to kill British officials. He was imprisoned for 18 months. Popular resentment against the official plague measures resulted in the assassination of Rand, the Chairman of the Plague commission in Poona, and Lt. Ayerst by the Chaphekar brothers on 27th June 1898. The Government investigated the possibility of direct involvement of Tilak in Rand assassination. But no proof could be found.

In 1905, he criticized the government strongly over its decision to divide Bengal. The following year, Tilak set out a plan of action to achieve swaraj (self rule). It involved buying only Indian-made goods and refusing to buy British-manufactured articles. In 1908, the British imprisoned him for six years. He was released in 1914. Tilak formed the Indian Home Rule League in 1916.