Alphabetical Order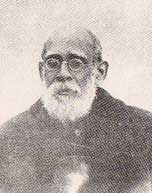 BANERJEA, SURENDRANATH (1848-1925). Bannerjea belonged to Bengali bhadralok or gentry family. He was educated in Calcutta and in England. He appeared for the competitive examinations for the Indian Civil Service in 1869 and excelled, gaining second place. Two other Indians, Romesh Chandra Dutt and Behari Lal Gupta, were also successful that year. Banerjea was disqualified on grounds of misrepresenting his actual age of Indian reckoning. His age being different from the English reckoning. He sued the British Government, won his case, and was reinstated. Soon after, however, the District Collector under whom he served had him dismissed for a minor infringement of rules.

Though Bannerjea often spoke in praise of individual Englishmen, he was critical of the bureaucratic system they established to rule India. He found the government impervious to public opinion and was struck by the "helpless impotency of our people." He was a skilled orator and found himself as a popular figure when he made a lecture tour of northern India in 1877 and 1878.

Surendranath Bannerjea took over the Bengalee, a daily newspaper critical of the government, in 1876 and also became a college teacher of English. He helped found Ripon College in Calcutta in 1882. He also founded the Indian Association, one of several voluntary groups that sprang up throughout British India in the late nineteenth century, pressing for representative institutions and participation of Indians in administration. He went as a delegate to plead this case in London in 1890. He served on Calcutta's Municipal Council and participated in the All-India National Conference, a precursor of the Indian National Congress founded in 1885.

As one of the first generation of Indian nationalists, Bannerjea attended every single session of Congress in his lifetime and was President in 1895 and again in 1902. He was a moderate who believed in constitutional reform as the path to self-government. He drafted petitions and organized public meetings, press conferences, and deputations to present the Indian case and appeal to the British conscience. He redoubled his efforts after the unpopular Partition of Bengal in 1905 and left the Calcutta Municipal Corporation along with twenty-eight other Indians.

Though Bannerjea, Gopal Krishna Gokhale, and other "Moderates" appeared to prevail when Congress split in 1907, Bal Gangadhar Tilak and the "Extremists" seemed to have greater popular appeal in the gathering momentum of the national movement. Bannerjea lost public acclaim and elections in 1912 his 1915 schemes for constitutional reform did not bear fruit. He felt no sympathy for Mahatma Gandhi, who soon established a dominant position in Congress.

Toward the close of his life Bannerjea retained his English friends including Lord Ronaldshay who was Governor of Bengal and appointed him as the first Indian Minister when implementing the new constitutional scheme of "dyarchy" in 1921.