Alphabetical Order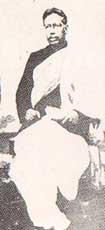 PAL, BIPIN CHANDRA (1858-1932). Pal was born in a prosperous Kayastha family of Sylhet in eastern Bengal. He joined the Brahmo Samaj at an early age and demonstrated his commitment to social reform by opposing caste restrictions. Advocating female education, supporting legislative action to raise the age of marriage, and by twice marrying Brahman widows.

Pal had an erratic career but was noted for his oratory and his nationalist essays in Bengali. He started the newspaper Bande Mataram, edited by Aurobindo in 1906, and the monthly Hindu Review in 1911, he wrote for various journals and edited the lndependent, founded by Motilal Nehru. His public lectures in Bengal and Madras from 1905-1908 earned him the label of "arch seditionist" from the British government. He championed the cause of plantation and other workers.

When Pal joined the Indian National Congress in 1886 he accepted the leadership ot the "Moderates" but later sided with the "Extremists" led by Bat Gangadhar Tilak. In the immediate aftermath of Lord Curzon's partition of Bengal in 1905, Pal switched to revolutionary activity. Along with Tilak and Lala Lajpat Rai he formed the New Party agitating for independence, Swadeshi, and boycott. He became a national hero in the fierce repression that followed. Pal was arrested and deported. On his return to India he joined the Home rule league.

Pal did not support Mohandas Gandhi in Congress or the Non-Cooperation Movement in 1920. He retired from active politics, and turned to the study of Vedanta, but continued writing.