Alphabetical Order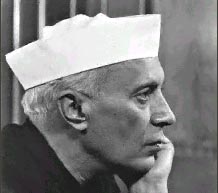 Jawaharlal Nehru (1889-1964), was Motilal Nehru's son and India's first prime minister. He had a long-lasting effect on the country's institutions and aspirations. He also played a major role in world affairs as one of the founders of the nonaligned movement.

Nehru was born in Allahabad. He was sent by his father to Harrow, one of England's leading schools, and then to Cambridge University, where he took a science degree. He returned to India in 1912, and soon entered the nationalist struggle against the British. In 1920, he took part in the noncooperation movement. This was a turning point in his life in two ways. It brought him into contact with Mohondas Gandhi (see GANDHI, MOHANDAS), to whom he remained close throughout his life, and it gave him direct experience of the levels of poverty that existed in the Indian countryside. From this time onward his whole life was dominated by the nationalist struggle. He was sent to prison on many occasions by the British. Nehru served as president of the Indian National Congress in 1929, 1936, 1937, and 1946, as well as after independence.

Nehru played a key role in negotiating independence and was the obvious choice as prime minister in 1947. He held office with no serious challenge until his death in 1964, and led the Congress Party to victory in three successive general elections. It was under Nehru's inspiration that India adopted a constitution which rejected religion in civic affairs and adopted parliamentary democracy. He was also convinced that India could only progress economically by adopting a form of planning that would make the best use of modern science and technology. The Planning Commission that he established oversaw a series of five-year plans during which steel and other heavy industries were set up under state control. Nehru was determined to turn India into a socialist society, but he insisted that it had to be achieved through the democratic process.

In the international sphere, Nehru worked with Egypt's leader Gamal Nasser and Yugoslavia's Josip Tito to establish the nonaligned movement. Nehru also established friendly relations with the Soviet Union. This move led to some hostility towards India from the United States. The hostility was made worse by what India saw as a U.S. bias towards Pakistan. Initially, Nehru looked to China for friendship and cooperation, but the two giants of Asia gradually became rivals for the leadership of Asia. Border conflicts developed into full-scale war in 1962. The war ended as a humiliating defeat for India, which cast a shadow over Nehru's last years. He died after a stroke in May 1964.

Not all of Nehru's work has survived, especially in the economic field, where the large state-owned industries have been seen as a drag on growth. But even his fiercest critics would recognize that modern India owes much to his vision and leadership.