Alphabetical Order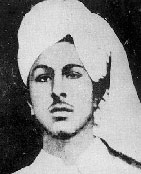 At the age of 23, if anyone was smiling just before he was being hanged to death, it was Shaheed Bhagat Singh. He was born September 27, 1907 in the village Banga of Layalpur to Mata Vidyavati and Sardar Kishan Singh. His uncle, Sardar Ajit Singh, as well as his father, were great freedom fighters, so Bhagat Singh grew up in a patriotic atmosphere. Ajit Singh established the Indian Patriots' Association, along with Syed Haidar Raza, to organize the peasants against the Chenab Canal Colony Bill. He also established the secret organization, the Bharat Mata Society.

At an early age, Bhagat Singh started dreaming of uprooting the British empire. Never afraid of fighting during his childhood, he thought of "growing guns in the fields," so that he could fight against the British. The Ghadar Movement left a deep imprint on his mind. Kartar Sing Sarabha, hanged at the age of 19, became his hero. The massacre at Jallianwala Bagh on April 13, 1919 drove him to go to Amritsar, where he kissed the earth sanctified by the martyrs' blood and brought back home a little of the soaked soil. He studied in the D.A.V. School in Lahore. At the age of 16, he used to wonder why so many Indians could not drive away these fistful of invaders.

In search of revolutionary groups and ideas, he met Sukhdev and Rajguru. Bhagat Singh, along with the help of Chandrashekhar Azad, formed the Hindustan Socialist Republican Army (HSRA). The aim of this Indian revolutionary movement was now defined as not only to make India independent, but also to create "a socialist India."

During the Simon Commission, Sher-e-Punjab Lala Lajpat Rai was wounded and died later. To avenge his death, Bhagat Singh and Rajguru killed Mr. Saunders (one of the deputy officers in connection with the Simon Commission).