Alphabetical Order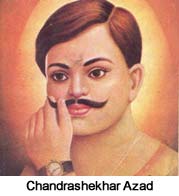 Born in an extremely poor family, Azad showed exceptional leadership qualities from his early childhood days. At times Azad's family would go without food for a whole day. Nothing to wear, nothing to eat Azad's childhood days had nothing exceptional story to say. Yet when Bhagat Singh once asked him about his family so that they could help them, Azad replied "I am not fighting this battle to gain a name in history, and my family does not need any help to survive."

As the head of Hindustan Republican Army Azad controlled the transaction of thousands of rupees, yet not a single buck got misplaced. Azad is one of the most misunderstood revolutionary in Indian history, inspite of the fact that he played the most important role in the revolutionary movement of India, history has a very little place to offer to him. Even Nehru reffered to Azad and his organisation as a fascist organisation. Which was far from truth.

Azad was never a fascist, he started his nationalistic carreer by participating in the non-cooperation movement of 1921 under Gandhi. When arrested young Azad was asked about his family and name to which he replied Freedom is my name and free India is my family. Irritated judge ordered Azad to be thrashed with a cane, yet the boy kept on chanting Vande Mataram while facing this ordeal. Such was his sacrifice, which was never matched by the people calling him fascist. But soon Azad got disillusioned with the Gandhian ways when Gandhi called of the non-Cooperation movement abruptly after the Chauri-Chaurah incident.

It proved a turning point in his life, as the next ten years showed Azad adopt violent methods as a mean to achieve his target. One after another from Kakori train robbery to the murder of Saunders, Azad never looked back. Yet he was a keen admirer of peace and wanted to turn to more novel way to express his thoughts. But the Congress pact with the British Government turned the tables on him. Now the young revolutionaries could not even look towards their fellow countrymen for sympathy.

Soon the chapter of his life came to an abrupt end when on 27th February, 1931 Azad was encircled by a huge posse of British troops in the Alfred park, Allahabad. He was asked to surrender but Azad won't. He kept on fighting till the last bullet. Finding no other alternative, except surrender, Azad shot himself in the temple.

Once Azad had remarked that 'there can be no British power on earth that could arrest him', true to his determination and name Azad remained free throughout his life as a mortal being.