Alphabetical Order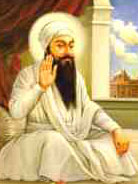 Born on April 15, 1563 at Govindval in Dist. Amritsar Guru Arjan Dev compiled the Granth Sahib in the year 1604 A.D; now revered as Guru Granth Sahib by the Sikhs.

Son of Guru Ram Das, Guru Arjan Dev acceded to the Guru Gaddi, (seat of Sikh Gurus, reverred by Sikhs all over the world) on September 1, 1581 A.D. at Goindval.

He enjoined the Sikhs to contribute one tenth of their righteous earnings, called Dasvandh, for community purposes. This measure was undertaken to strengthen the Sikh Movement, economically. He was the first martyr who laid the foundation of great Sikh tradition of Martyrdom. He died after facing brutal torture at the hands of Mughal Jahangir.